Our tools were developed from the ground-up to be extremely user friendly. If you email or use word processors then you already know how to build a website with HaloSites for your church or ministry.

Facebook and Twitter have become a phenomenon in a short time, but knowing how to use it to its fullest is not all that easy. We can help you get the most from these valuable resources so be sure to ask our team how we can help.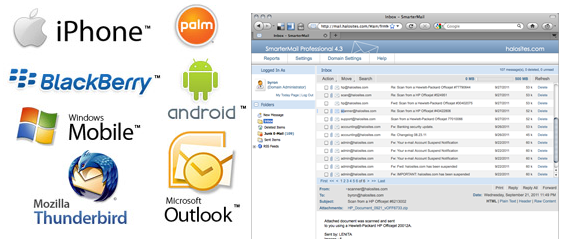 Every package at HaloSites comes with free email accounts! Each account is accessible via any web connection whether it is on a PC, Mac, tablet or Smartphone. Our email software can be used in conjunction with most all email application, such as Microsoft Outlook, Express, Thunderbird and more. We also have an optional sync solution that can be added to your account if you want real-time over-the-air-wireless syncing between all your mobile devices.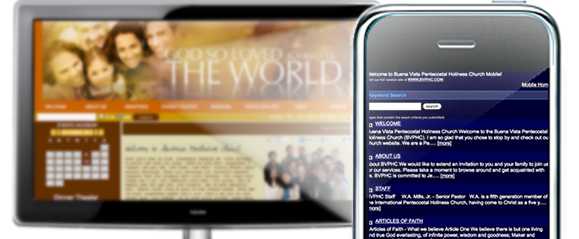 Every package includes built-in mobile integration for iPhones, iPads, Droids, Blackberries and more. The mobile site is optimized for mobile devices and reduces slow page loading by showing only the information that the user is looking for. Just choose your package and your mobile site is included and ready to go!

Starting with our Platinum Package we introduce several options for online media. Whether it is streaming audio or video sermons or perhaps you want your very own podcast station, we have the tools and features that you've been looking for.

Our web based CMS system has been developed and used with both PC and Mac, so no matter what computer you are using today, next week or next year will work with HaloSites. Best of all you can update your site from anywhere!
Simple to Use and Edit!

Each church website package includes HALO, our proprietary CMS system that makes editing your site a breeze.

Built in Social Media

We have included built in social media integration to Facebook, Twitter and others for selected packages.

Free Emails

Why get charged extra for emails? Get free emails with each site with robust features like collaboration and syncing.
Mobile Ready

Every site comes with a mobile ready web site for iPhone, Droid, iPad, Nook and Kindle.

Media Rich Websites

Stream your sermons in audio or video formats or even podcast a syndicated series with HALO Sermons and Podcast.

Mac Ready!

HALO was developed to work with Mac or PC so you're covered either way.