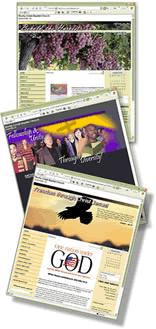 Editing Your Site Is Simple
Forget learning code and start creating your site now! Our sites come with our tried and true proprietary content management system (CMS) that we call HALO. Because we develop our own software, it allows us to provide custom ministry tools and features that are easy to use. Best of all, each new customer is assigned a Site Coordinator (SC) that will walk you through the web site builder tools to help you get started. Call us Toll Free at 1-866-425-6748 x101 and begin creating your web site.
HALO - Content Management System
Our CMS is second to none and very simple to use. If your familiar with sending emails or using word processors then HALO will be a breeze! Our site editing tools are setup to work and function like the programs you are already familiar with, so there is a very short learning curve.
Today there are many different web solutions, but many are developed for design agencies to push out and maintain sites more efficiently. Those sites were not designed for the casual user and best suited for those who are already knowledgeable about HTML, CSS, and Scripting Languages. HALO is different because it was created for users who have never worked with web sites, yet provides the advanced features that more seasoned users demand. Give HALO a try and see why it is the most user friendly CMS for churches and ministries to date!